By:  Rusty Weiss
There is a major probe going on into the breach of Congressional computer security, surrounding three Pakistani brothers who served as IT staff for members of the House Permanent Select Committee on Intelligence.
Oh, you haven't heard about this in the media?
The three brothers were locked out of U.S. House computer networks as part of the probe, but now we're learning that one of the staffers allegedly had the user name and password for Debbie Wasserman-Schultz's iPad, and by extension had access to her DNC emails.
If you recall, Wasserman-Schultz was the Chair of the Democratic National Committee whose emails proved that she was cheating in the Democrat primary to help Hillary and hurt Bernie Sanders.
Imran Awan, the lead suspect in the criminal theft and cybersecurity probe, was referenced in an email discussing an iPad issue.
"I have to get this ipad thing figured out," Garret Bonosky, deputy director of the DNC wrote. "Need to make sure I have her (DWS) username and password."
Amy Kroll, DNC Assistant to the Chair, responded: "I do not have access to her ipad password, but Imran does."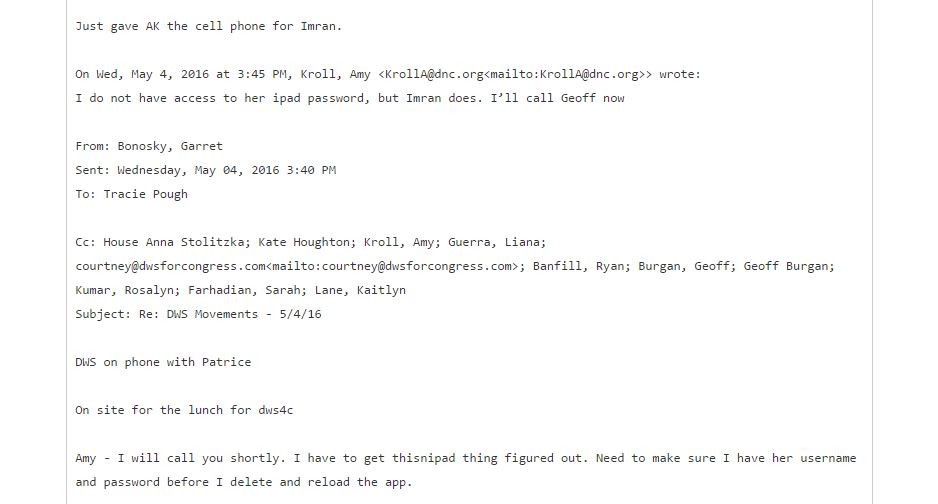 Awan and his fellow family members are accused of having accessed congressional computers without permission. This appears to be a trend at this point.
Read More:  http://menrec.com/